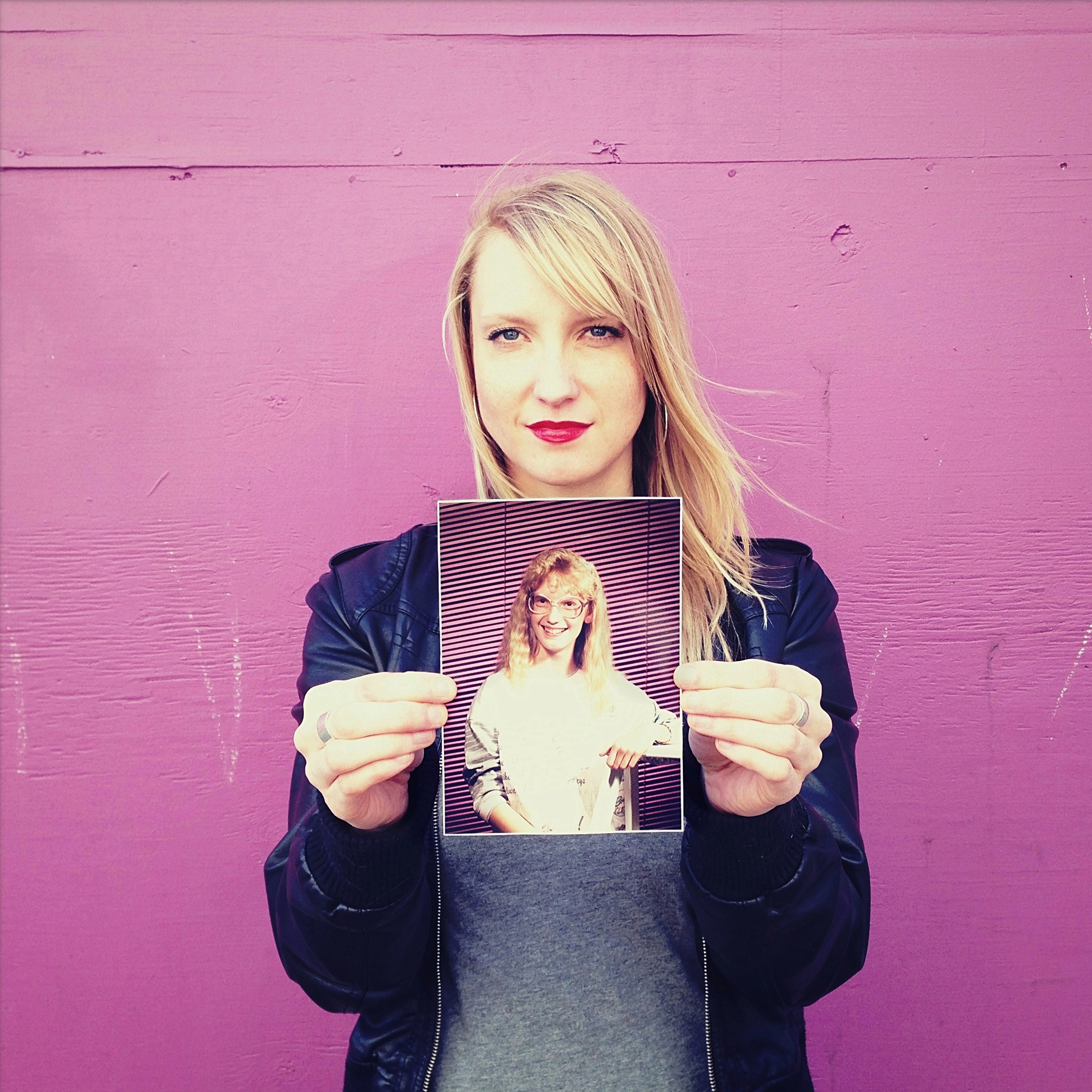 Then...
11 years old
Billings, Montana
Now...
35 years old
Salt Lake City, Utah
UX / Senior Web Designer
My Story...
I'll begin with a hesitant subject, me! Here I am holding a picture of myself from the 5th grade. It's complete with the fancy & crooked 80's blinds behind me.  It's hard to see from the picture but I made myself a friendship bracelet that I'm wearing on my left wrist. And let's not forget to mention the poofy bangs, frizzy permed hair, and my giant glasses that faded from purple to clear. I thought they were so cool when I picked them out, but then I quickly realized that I was the only one wearing that kind in my class. I was teased about everything:
My glasses ("four-eyes", "goggle face", "nerd", "geek")
How tall & skinny I was ("skin & bones", "skinny mini", "skeleton", "Gumby")
My name ("Row, Row, Row Your Boat…", "Merrily We Roll Along")
Or the fact that I didn't wear the latest fashions.
I desperately wanted to fit in but clearly I had all the odds against me. I looked nothing like the popular girls and the boys never looked my way. I was so awkward that I had a hard time making many friends or standing up to bullies. I was really shy and quiet, so that made me an easy target. Although I was picked on over these things, there were still a few nice kids that I thankfully called my friends. They didn't care how huge my glasses were, how skinny I was, or that I didn't keep up with the fashions. They accepted me for who I was, which in turn made me feel more confident in myself, and to not listen to the kids who didn't really know me. Thank goodness time goes on, hair grows out, glasses can be replaced by a newer pair, or contacts, or laser eye surgery, and differences are celebrated! I've never forgotten the kindness of my friends and I wanted to be sure to always treat everyone with that same kindness and respect. Had I not gone through such a rough time, I may not have become the caring and accepting person that I feel like I am today. Those years were painful but they taught me a valuable lesson on compassion. Even now I have a hard time showing what I used to look like because of always getting teased back then. And sometimes I still feel awkward in certain situations. But I figured if I can share that part of my past next to the person that I turned out to be, I can embrace my sweet little nerdy self and be okay with it!